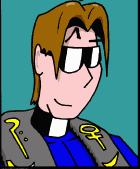 Introduced as the very reverend Master Lieutenant Theo Fobius, Theo was the only responding applicant when
Tagon's Toughs
put out ads for a company chaplain. His first official duty was to lay the
Doctor
to rest, which he did in a surprisingly irreverent fashion that shocked the rest of the Toughs. Despite his somewhat rocky start, however, Theo went on to serve admirably alongside the Toughs for several years.
Ad blocker interference detected!
Wikia is a free-to-use site that makes money from advertising. We have a modified experience for viewers using ad blockers

Wikia is not accessible if you've made further modifications. Remove the custom ad blocker rule(s) and the page will load as expected.