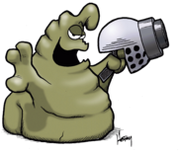 Welcome to Schlock Mercenary Wiki
Edit
Schlock Mercenary Wiki is a free, collaborative encyclopedia about Schlock Mercenary that anyone can edit!
Schlock Mercenary
Edit
Schlock Mercenary is an epic space opera in webcomic form. Written and drawn by Howard Tayler following the adventures of a band of mercenaries: Tagon's Toughs. Updates Daily.
Latest activity
Edit
Ad blocker interference detected!
Wikia is a free-to-use site that makes money from advertising. We have a modified experience for viewers using ad blockers

Wikia is not accessible if you've made further modifications. Remove the custom ad blocker rule(s) and the page will load as expected.