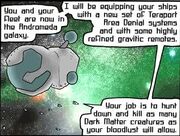 The Piece Docent is a Devastator-class warship. It is one of the many ships that made up the Fleetmind, under the command of Petey.
The Piece Docent was primarily used to capture and re-equip hostile starships, pressing them into service in the war against the dark matter entities.
As with all ships under Petey's control, the initials of the Piece Docent are PD.